PassBook Generator ActiveX
PassBookX is a production grade PassBook Generator ActiveX for use with any OLE/COM languages and Microsoft IIS. The component can be used by both Desktop and Web Applications to generate Apple and Android compatible PassBooks.

Key Features
Downloads
Download PassBook ActiveX version 1.0.0.0 (26 Sep 2018)
MD5: 40a4f15f7fd3fdafe8769d4e5ca601b2
SHA-1: cbd5ddb0486f65bc222c8af72030b18fa5a0792c
Complete installation package for Windows 7, 8, 10 (x86, works on x64 too).
Includes PassBookX ActiveX and Visual Basic 6.0 SP6 & IIS Samples.
---
Microsoft x86 C++ 2015 Runtime must be installed on your computer. Can be also downloaded separately from here:
Microsoft Visual C++ 2015 Redistributable Update 3 RC
---
License Agreement:
mobileFX Software End-User License Agreement for PassBookX ActiveX Control
---
Compatibility

Even though the control is promoted and supported only for Visual Basic 6.0 SP6, it is compatible with any OLE/COM capable Integrated Development Environments and x86 programming language. The following programming languages and IDE are reported to be compatible with PassBookX:
Visual Basic 6.0 SP6

SUPPORTED

Microsoft Visual Studio .NET 2010/2015/2017 (VB.Net, C#, only for 32-bit)
Microsoft Office Visual Basic for Applications 2003/2007/2010/2015/2016 (VBA, Access, Excel, etc., only 32-bit)
Borland Delphi (down to version 5.0)
Embarcadero Delphi (any Windows version, only for 32-bit)
Qt (any Windows version, only for 32-bit)
Xojo 2017 (any Windows version, only for 32-bit)
Visual FoxPro
PowerBuilder
WinBatch
Internet Explorer (requires NirSoft ActiveX Compatibility Manager)
Ruby (via the 'win32ole' library included in the standard Ruby 1.8.x or later distribution)
dBase (from 12 Plus down to 2.80 Plus)
Release Notes
24 Sep 2018
Hot Fix

Further to Common Controls issues with VB6, Common Controls Manifest removed from OCX but preserved manifest in CEF3 processes.
Quick Installation
Download the setup package and install it in a place like C:\Program Files (x86)\PassBookX and you are ready to start using the component.
Licensing
Evaluation
You are welcome to evaluate PassBookX for as long as you want and feel free to contact us with your questions and your suggestions! During evaluation, when opening a URL and at random intervals PassBookX displays a message box informing you that it is a commercial product and that it requires a License, but it wont prevent you from using all its features.
License
In a nutshell, a single License allows you to develop an unlimited number of applications linked with PassBookX ActiveX control and distribute them freely to an unlimited number of your customers. License Agreement: mobileFX Software End-User License Agreement for PassBookX ActiveX
| | | | |
| --- | --- | --- | --- |
| Edition | Commercial Use | Price | |
| PassBookX HTML5 2D Context ActiveX (x86) | Yes | £ 399 | |
| PassBookX HTML5 2D Context ActiveX (x64) | Yes | £ 399 | |
Distribution
If you distribute a LICENSED PassBookX ActiveX along with your applications, don't forget to include MS C++ 2015 x86 redistributables. To register the ActiveX simply use: regsvr32 PassBookX.ocx. Obviously you are prohibited from distributing an unlicensed copy of PassBookX.
Support Services
What is Support Voucher / Bounty?
If you desperately need a new feature implemented in PassBookX or immediately need a hotfix and can't wait until next release, you can contact us at info@mobilefx.com and negotiate with us a price, for which we will stop what we do and take care of what you need! The service is called a Bounty and applies only to existing Customers; for any edition of the ActiveX but only for its latest version (we do not branch per customer).
Just send us an email with what you need and our Account Manager will pass your request to our Tech Lead for Effort Estimation along with Technical Specs of the works to be done. Effort Estimation is in man hours and it is different from Duration. For example, to add a feature it might take our expects 8 hours to implement, but because we work on Sprints we might need a duration of one week to deliver.
The catch is that you participate in the process, being the primary Beta Tester! This phase is called User Acceptance Testing (UAT) and during this period you receive code-locked prototype revisions and provide us with valuable feedback, such as UAT observations and Defects. Once UAT is completed and you are satisfied with the result, you release us from the Bounty and we provide you with an Unlock Code as a token of our appreciation.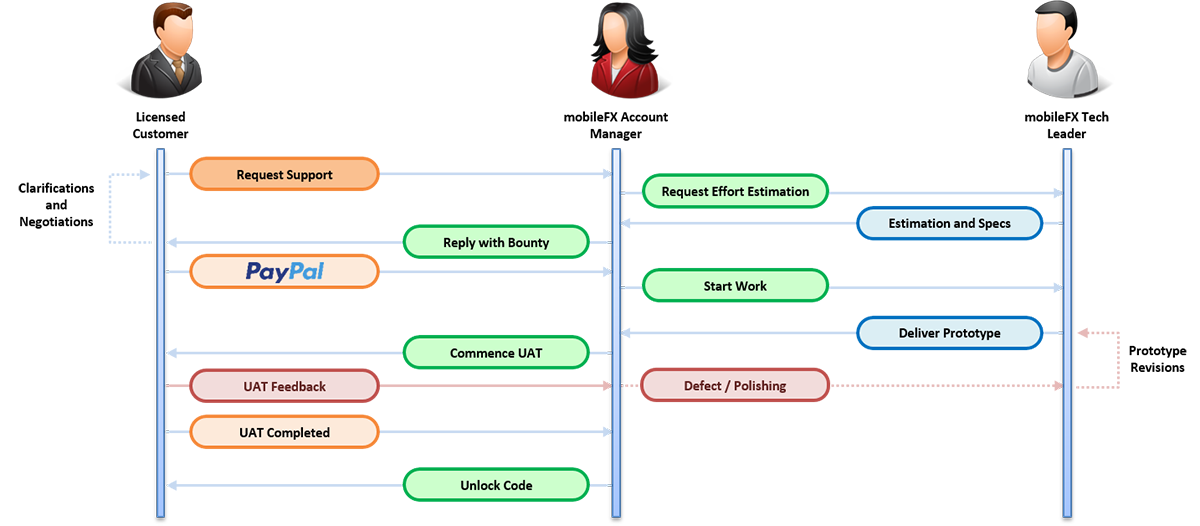 Getting Started
Commercial License Activation
First you must activate PassBookX ActiveX by providing your License Key. If you are using early binding, a good place to do that is on Form_Load event. If you are using late binding you are advised to activate the control straight after its creation. This step applies only to license owners. During trial evaluation of PassBookX you may skip it.
PassBookX API
Other mobileFX Products

WebKitX is a Visual Studio 2015 C++11 MFC/ATL x86 ActiveX that wraps Chromium Embedded Framework (CEF3) for use with OLE/COM languages. Chromium Embedded Framework encapsulates WebKit Blink HTML5 Renderer and Google V8 JavaScript VM Engine. This is a production-grade stable component for commercial use that will truly add HTML5 features in your Desktop and Terminal Applications.
Find out more about WebKitX

CairoCanvasX is an HTML5 Canvas 2D Rendering Context for use with OLE/COM languages that does not require HTML5 run-time. The ActiveX is linked with Cairo 2D Graphics Library version 1.10.2 from GTK+ 2.24 win32 implementation. This is a production-grade stable component for commercial use that will add hardware accelerated vector graphics in your desktop applications and 2D games. Effort has been made to preserve HTML5 canvas API in order to offer smooth web to desktop porting and vice versa.
Find out more about CairoCanvasX